I can't believe May is already over! Though I didn't read as many books as I would have liked to, I did gain momentum in my reading, and met some of my reading goals!
Here are the books I read in the month of May!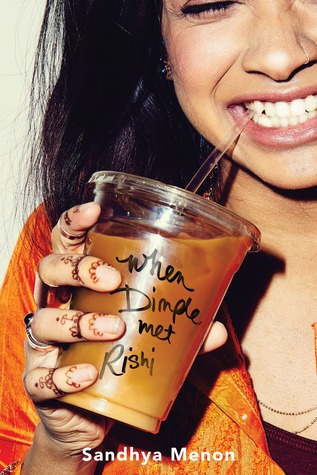 When Dimple Met Rishi, by Sandhya Menon
I actually really liked this book! This is a YA novel about Dimple, a girl who doesn't conform to her mother's traditional Indian expectations; she would rather focus on technology and app development rather than finding a boy that she can marry. In preparation for college, Dimple asks her parents to enroll her in a summer program for app development. They consent to Dimple's surprise. Little does she know that her mother actually found a boy for Dimple to marry, and he's going to be at this summer program as well! That's When Dimple Met Rishi.
This story was so cute. Being a little above the typical YA age range, I did find some parts a little cheesy and angsty, but overall I really enjoyed it.
3/5 stars
Goodreads link here.  
Northanger Abbey, by Jane Austen
I have made it my mission to read more Jane Austen novels, or rather all Jane Austen novels. Northanger Abbey was the beginning of this journey and the second Austen novel I've read aside from Pride and Prejudice. As I expected, I really loved this story. I thought the way it was constructed almost as metafiction was really interesting and well-done. I love that Catherine Morland is an avid reader, especially of horror/mystery novels. Because she reads so much, and she's young and naive, she easily gets caught up in the stories she reads, and forgets to appreciate her own life.
It was really whimsical and there were several moments when I laughed out loud while reading. I think people often forget how hilarious Austen really is.
4/5 stars.
Goodreads link here.
The Book Thief, by Markus Zusak
I posted a full book review on this book in a previous blog. If you missed it, you can see it here.
This book is about Liesel Meminger, who goes to stay in the foster care of the Hubermans. It's about her upbringing there in a poor German town during WWII Nazi Germany.
Pretty much, this book is freaking amazing. I was way behind on this train, but if perhaps you haven't read this book yet, do it! You won't regret it. This book is beautifully and masterfully written.
5/5 stars.
Goodreads link here.
Wonder, by R.J. Palacio
Again, I was really late to this train. However, since I'm still taking that online YA Lit course, I chose this book for one of my lessons. And it did not disappoint. This book was so funny and sad and so so touching. It tells the story of August (Auggie) Pullman, who is starting the fifth grade after a life of homeschooling and who also has a facial deformity. It's a sweet and unique coming-of-age story that really forces the reader to gain some perspective. I love love loved this book so much.
5/5 stars.
Goodreads link here.
---
Those are all of the books I read during the month of May. While it wasn't as many books as I would have liked to read, I had such a good reading month as far as the quality of the books. If you've read any of these books, I would love to discuss them with you in the comments below!
Stay tuned for my June TBR coming out sometime in the next week!
And don't forget, you can find me in other cyber spaces:
Instagram: @bookrecs625
Goodreads: https://www.goodreads.com/user/show/5603168-samantha-gilmore
Happy Reading!